Book – Are You A One Night Stand Business?
Discover how the principles of dating can help grow your business. You'll be taken through the stages of dating, explaining how they apply to business and backed up with real life stories for each stage.
Learn how to 'date' your business customers and develop long lasting relationships where your customers love you so much they will help you grow your business.
Email me for further details or you can purchase via Amazon below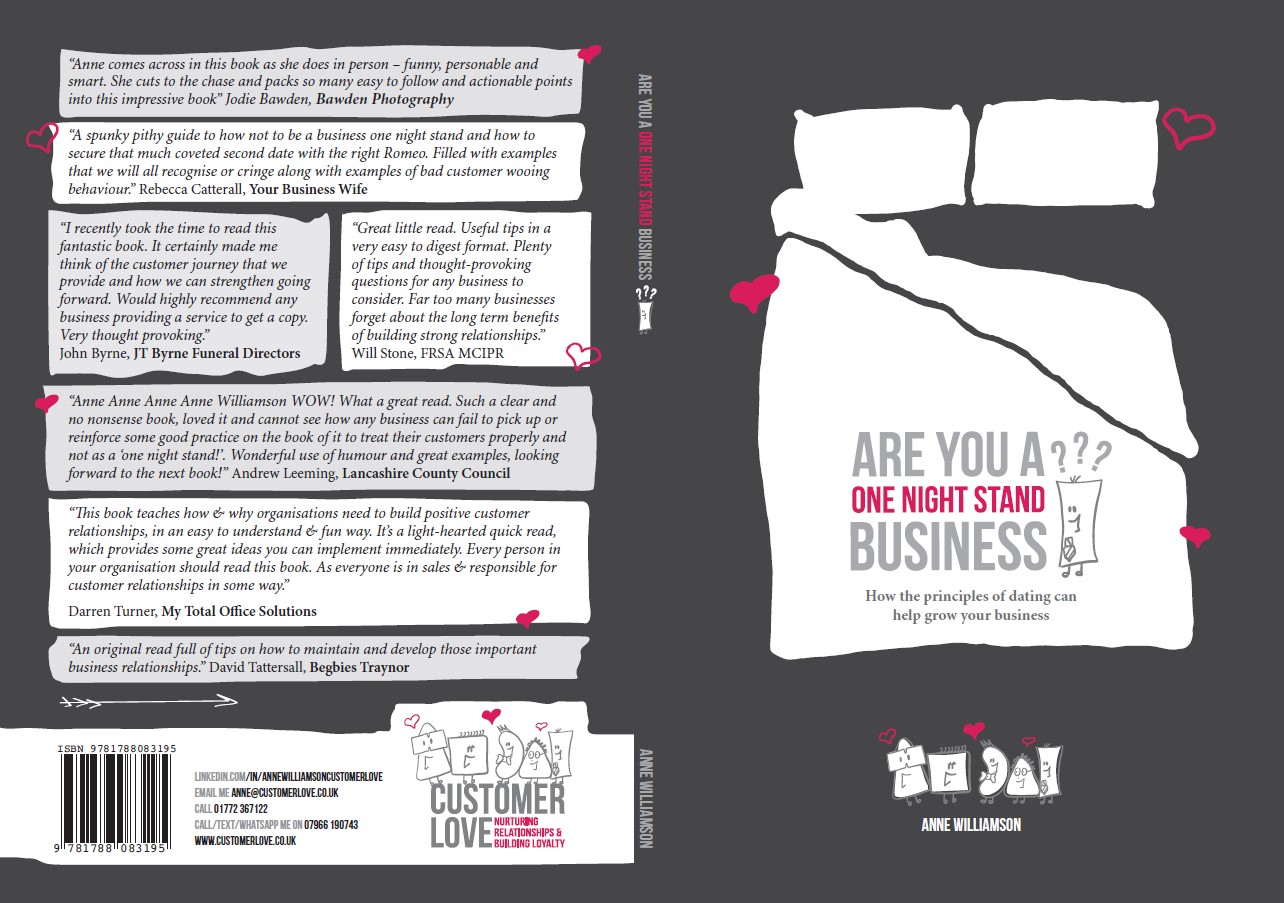 "Just want to say well done!! I think you've hit the mark for many types of business -a small easy to read book that can be picked up time & again & read in little over an hour. I know I'll definitely be returning to it!

Maria O'Sullivan
"A spunky pithy guide to how not to be a business one-night stand and how to secure that much-coveted second date with the right Romeo. Filled with examples that we will all recognise or cringe along with examples of bad customer wooing behaviour.

Rebecca Catterall

Your Business Wife
"I recently took the time to read this fantastic book. It certainly made me think of the customer journey that we provide and how we can strengthen going forward. Would highly recommend any business providing a service to get a copy. Very thought-provoking.

John Byrne

JT Byrne Funeral Directors
"Great little read. Useful tips in a very easy to digest format. Plenty of tips and thought-provoking questions for any business to consider. Far too many businesses forget about the long term benefits of building strong relationships.

Will Stone

FRSA MCIPR
"Anne comes across in this book as she does in person – funny, personable and smart. She cuts to the chase and packs so many easy to follow and actionable points into this impressive book.

Jodie Bawden

Bawden Photography
Blog – What have we got to say?
Don't Make Me Jump Through Hoops
Send for your FREE copy of 'Stop Making Me Jump Through Hoops' cheat sheet to discover 3 ways to instantly improve your customer service
I lack words to express, how grateful I am to Anne for her help. I am a budding company, which has a long way to go. Thanks to her knowledge, experience and professionalism, she was able to give me more confidence and show me strategic marketing direction for my business. What I really would like to say is that I'm craft-loving mum and art photographer, not like most very important entrepreneurs. But Anne treated me on a par as a large company, that introduces new marketing strategies. Therefore I am even more grateful for her help and her valuable time. BIG THANK YOU Anne!

Zofia Zasempa

AZ Workshop ART & AZ Zasempa Photography
Anne worked closely with us over a number of weeks and really engaged with us - she helped the 2 Directors to develop a single Vision for the business and to make sure it aligned with our personal ambitions. She made us look at some things differently, and on other issues she reinforced our views. We had very open conversations with Anne and she really took the time to find out what exactly our business does and who our customers are. She was really positive about our business and how we might take it forward. The end result was a set of short, medium and longer term objectives for our business development and marketing - all of which feel very achievable. We're continuing to work with Anne - she's now helping us to keep a focus on implementing our Strategy and I have no hesitation in recommending her.

Ian Yates

Director at Flinders Chase
You know when you meet someone and you instantly think I'd like to do business with this person? Well Anne was just one of those people. Very knowledgeable about getting the best out of your marketing, extremely creative, kind, caring and a great sense of energy. She helped me when I had become stuck and, following a brainstorming session, I had lots to work on. Step one of the process immediately produced an increase in work flowing into my business. I would recommend Anne to anyone. She gives a great presentation too!

Pamela Clark

All Things Sorted
Following a recommendation, Anne very kindly gave a presentation to our NatWest Women in Business group in Blackburn. Anne was really accommodating and came up with some great ideas and suggestions for the event. Her talk was very humorous and engaging, whilst at the same time delivered some really important key messages. Feedback from the event was excellent. Anne is great fun and a pleasure to work with - highly recommended.

Norma Greenwood DipACB

Senior Underwriter at Haydock Finance Ltd
I launched my new company this year and was incredibly lucky to be given Anne as my mentor. Anne has really helped me focus on strategy, marketing and the direction I should take the company. She is clever, resourceful, imaginative and great fun. Can't recommend her highly enough!

Liz Bloor

Studio Producer, BBC
Anne, well what can I say, you came in, listened to what was happening and changed and moved us into another direction. love the way you made ME think outside the box, which is odd for alternative funeral business. I have now had an increase in business along with a write up in our Business Journal. Once again thank you for everything.

Gary Isaacs

Gary's Trike Hearse
Anne has a vast amount of expertise and her ability to apply it to businesses of any size, in any sector is remarkable. I was very pleased with the help and direction we received and would recommend Anne in an instant, a real pleasure to work with.

Brian Curran

Managing Director, KeyPlus
Anne was a great help in identifying my market sectors and focusing on reaching my target. Anne's support has been really useful and her style is wonderfully simple, straight and direct. She has enabled me to simplify a very garbled message. Anne's help can't be forgotten.

Colin Cliffe

Chief Finance Officer at Mastercall Healthcare